Albania, located in South-Eastern Europe, is a land of lakes, valleys, ancient Roman ruins, historic monasteries, charming villages, and delicious food and wine. It's a perfect place to visit if you're looking for an experience that's off the beaten path and less touristy than other European countries.
Capital: Tirana
Population: 2,845,955
Area: 28,748 km2
Currency: Lek (ALL)
Below are some things you need to consider on your Albania Vacation !
1.

Why Choose Albania for a Holiday Vacation
Albania is a relatively small country, but it has a lot to offer visitors. It's home to some of the world's most beautiful landscapes, and it isn't too difficult to get around. It's also culturally fascinating and has a long history.
It would be easy for your Albania Vacation to focus on the natural beauty that it has to offer. Mostly of the visitors prefer to discover the Albanian tradition and authentic culture, while enjoying the great outdoor activities.
So what can you expect when visiting Albania?
First of all you we'll meet incredibly friendly people, ready to help anytime you need it. You'll be amazed by beautiful beaches with turquoise water. The country is rich with mountains, rivers, canyons and lakes. The food is super delicious and everything you'll experience is worth value for money.


2.

Planning Your  Albania Vacation 

Packing for a trip to Albania is easy. It's best to pack light, especially if you're visiting the country in the summertime. Be sure to bring clothing that is appropriate for warm weather, and pack shoes that are comfortable in both dry and wet conditions.

You should also pack plenty of cash! Credit cards are not accepted at most businesses in the country, so you'll want to be prepared with some spending money before you arrive. Travelers can expect to pay about Eur 100-150 for a flight from major international hubs like London or Paris.



 
3.

The Weather in Albania 
If you're planning your Albania vacation, you'll want to make sure the weather is on your side. Well, if you're lucky, you might experience a little bit of rain. The average temperature in Albania ranges from around 70 degrees Fahrenheit to 86 degrees Fahrenheit in the summertime and 10 degrees Fahrenheit to 60 degrees Fahrenheit in the wintertime.
The best time to visit Albania would be during the spring and autumn, because it's not too hot either too cold. Albania is characterised by a Mediterranean climate in the coast, while it's slightly more continental in the interior. Really cold it's only in the mountainous areas. Albania has warm, dry summers and mild, wet winters.
However, if you do happen to encounter some rain during your adventure, don't worry! It will likely clear up by the next day.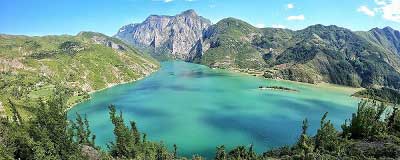 6 Days / 5 Nights- ALBANIA
Travel to a part of Europe still untouched by mass tourism. Visit an ancient fortified city, explore the beautiful Karaburun – Sazan Marine National Park by speedboat, explore the spectacular Osumi Canyons and meet a local family in the Tomorr mountain.
Packraft, Snorkel and Hike Canyons in Albania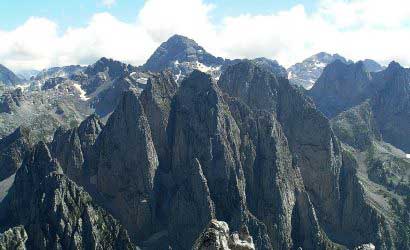 Discover the adventurous, mysterious, un-tamed, Albania in this two-week vacation.
Hiking the Accursed Mountains
4.

Suggested itinerary for your next trip. 

It is called the last wild river of Europe and is one of the natural wonders of Albania. It is home to over 1,100 authentic species and communities.

The Vjosa fish fauna is characterized by a high percentage of endemic species of the Balkans. The dense vegetation makes this river a great place for adventure enthusiasts to explore and relax. There are many underground passages and unexplored caves along the entire length of the free flow.

In the spring, the high water from the melting snow creates the perfect flow for enthusiasts to explore the entire length of the river. The various levels of abduction are such that one does not need prior rafting or packrafting experience to navigate them in white water rafts.

With the support of the EU 4 Innovation – Challenge Fund, Active Albania is developing 4 new packrafting itineraries (the most innovative tourism activity in the Western Balkans) and during 2022 Vjosa can be explored for tours of 3-10 days.
TREKING IN VIA DINARICA
Via Dinarica is a long distance trail that stretches the entire length of the Dinaric Alps, conceived for the first time by a group of passionate climbers to connect the seven countries of Slovenia, Croatia, Serbia, Bosnia and Herzegovina, Montenegro , Kosovo and Albania. Combining over 1900 km of old shepherd trails, strategic combat routes, new trails, it combines colorful lawns, high mountains, steep valleys, dense beech forests, sparkling alpine lakes and the Tara River Canyon, the deepest canyon in Europe.
Valbona and Thethi (often called Malësia) are the two main destinations, part of Via Dinarica. A wild, high, mountainous landscape, inhabited by strong and fiercely independent people, Malësia has been for the history of Albania the region that was never invaded or subjugated by different waves of invaders during the last 2000 years of history of the Balkans.
EXPLORATION OF THE ONLY NATIONAL MARINE PARK KARABURUN SAZAN
Karaburun-Sazan a sea area of 1.9 km and lies along the coast of the Karaburun Peninsula and Sazan Island. In the Karaburun-Sazan Marine Park you will find the wreckage of ancient Greek, Roman and World War II ships.
You will witness the rich underwater ecosystem, with its limestone cliffs, giant caves and secluded beaches with ancient sailors inscriptions on the shore. Coralogenic outcrops host some of the most protected and commercially valued species, such as red coral. Due to its diversity, coraligen is considered one of the most attractive scuba diving seascape in the world.
BIRD WATCHING AND KAYAK IN SHKODRA LAKE
Shkodra Lake is one of the largest bird reserves in Europe, with 270 species of birds. Half of them are migratory birds, while the rest build nests along the lake shore. The lake is a sanctuary for 1.5 to 2.5 million birds each year. Due to the extraordinary biodiversity attracted by the mix of lake habitats and the need for conservation, Lake Shkodra was added to the List of Wetlands of International Importance by the Ramsar Convention in 1996.
Perhaps the most distinctive bird is the rare Dalmatian pelican. Shkodra Lake is famous for its green colors. The lake surroundings are covered with riparian forests and wet meadows, which provide excellent nesting sites and food for numerous passers-by. Among the birds of prey that can be seen are the short-toed snake eagle and the golden eagle.
SKI IN BREZOVICA
Located only 28 km from Prizren and 12 km from Brezovica, another tourist attraction of Kosovo, is a unique attractive village, has a ski slope but above all is located in the beautiful mountains of Sharr.
The Sharr Mountains lie on the border between Albania and northern Macedonia and end along the southern border of Kosovo. They are slightly more rounded than the Cursed Mountains and have many peaks over 2500 meters high, which offer steep northern slopes and very stable snow conditions and fantastic for a variety of adventures like skiing or snowshoeing.
COVID-19 Information
– Are tourists permitted to enter? Yes.

The government of Albania issued a statement on June 1, 2021, containing guidelines for foreign citizens entering Albania. Visit the Albanian Ministry for Europe and Foreign Affairs (MEFA) website here. Please pay close attention to the dates on which specific policies will take effect.
Commercial flights returned to Albania on June 15, 2020.
As of April 12, 2021, direct civilian air traffic to and from Great Britain has resumed.
Lufthansa and Austrian Air continue with a reduced number of weekly flights to/from Tirana until further notice.
We recommend that you contact your airline regarding any boarding restrictions that may be in place, as air carriers have the final decision as to who they will and will not board.
– Is a negative COVID-19 test (PCR and/or serology) required for entry? Yes.

Effective September 6, 2021, all passengers who transit or apply to enter the Republic of Albania, ages six or older must meet one of the following three conditions:
• Submit a vaccination passport where the date of full vaccination is no later than two weeks from the date of entry in Albania.
• Have a negative PCR test within 72 hours or a rapid antigen test within 48 hours, or
• Alternatively, may provide documentation from a licensed health care provider of having recovered from COVID-19 in the 6 months preceding travel.
• Citizens residing in Albania who return and do not have one of the above documents must self-isolate themselves for 10 days and inform the health authority to perform a test at the end of the isolation period.
– Are health screening procedures in place at airports and other ports of entry? Yes.

Albania has increased the number of medical personnel at all ports of entries.
Enhanced screening and quarantine measures are being implemented. Travelers should be prepared for travel restrictions to be put into effect with little or no advance notice.
Conclusion
Planning a holiday vacation is not an easy task. There are so many things to consider and so much to keep in mind when planning your trip. If you are not sure what you should do, then this article is for you. 
Need help planing your trip?